Иматиниб мезилата cas 220127-57-1 imatinibmesylate Гливек
| | |
| --- | --- |
| Место происхождения: | Zhejiang,Китай (материк) |
| имя бренда: | MOSINTER |
| № КАС.: | 220127-57-1 |
| чистота: | 99% MIN |
описание продукта
оплаты и доставки термины
объем подачи воды
Условия оплаты:
T/T
производственная мощность:
20 тонн / год
MOQ:
1 Килограмм
упаковка:
Согласно запросу...
транспортные средства:
морские перевозки, наземный транспорт, воздушный транспорт
Дата доставки:
в течение 7 дней
иматиниб мезилата(Кас: 220127-57-1)

пункт

стандарт

результаты

форма

pale yellow to almost white crystalline powder

almost white crystalline powder

melting point

222℃~228℃

227. 0℃~228. 0℃

crystalline form(x-ray)

form α

form α

identification

H-NMR, MS

соответствует

выпарка на зажигании

0. 1%максимум

0. 08%

хлористый

0. 01% макс

соответствует

тяжелые металлы

20ppm макс

соответствует

сопутствующих примесей методом вэжх

total impurity ≤1. 0%
single impurity≤0. 1%
0. 15%
0. 03%

Анализ (ВЭЖХ)

99. 0%

99. 90%
appalication:
imatinib is used to treat chronic myelogenous leukemia (cml),gastrointestinal stromal tumors (gists) and a number of other malignancies.
chronic myelogenous leukemia:
the u. s. food and drug administration (fda) has approved imatinib as first-line treatment for philadelphia chromosome (ph)-positive CML, both in adults and children. the drug is approved in multiple ph-positive cases CML, including after stem cell transplant, in blast crisis, and newly diagnosed.
gastrointestinal stromal tumors
the FDA first granted approval for advanced GIST patients in 2002. on 1 february 2012, imatinib was approved for use after the surgical removal of kit-positive tumors to help prevent recurrence. the drug is also approved in unresectable kit-positive gists.
другие
the FDA has approved imatinib for use in adult patients with relapsed or refractory ph-positive all, myelodysplastic/myeloproliferative diseases associated with platelet-derived growth factor receptor gene re-arrangements, aggressive systemic mastocytosis without or an unknown D816V c-kit mutation, hypereosinophilic syndrome and/or chronic eosinophilic leukemia who have the fip1l1-pdgfrα fusion kinase (CHIC2 allele deletion) or fip1l1-pdgfrα fusion kinase negative or unknown, unresectable, recurrent and/or metastatic dermatofibrosarcoma protuberans. on 25 january 2013, gleevec was approved for use in children with ph+ all.
for treatment of progressive plexiform neurofibromas associated with neurofibromatosis type I, early research has shown potential for using the c-kit tyrosine kinase blocking properties of imatinib.
экспериментальный
one study demonstrated that imatinib mesylate was effective in patients with systemic mastocytosis, including those who had the D816V mutation in c-kit. however, since imatinib binds to tyrosine kinases when they are in the inactive configuration and the D816V mutant of c-kit is constitutively active, imatinib does not inhibit the kinase activity of the D816V mutant of c-kit. experience has shown, however, that imatinib is much less effective in patients with this mutation, and patients with the mutation comprise nearly 90% of cases of mastocytosis.
imatinib may also have a role in the treatment of pulmonary hypertension. it has been shown to reduce both the smooth muscle hypertrophy and hyperplasia of the pulmonary vasculature in a variety of disease processes, including portopulmonary hypertension. [16] in systemic sclerosis, the drug has been tested for potential use in slowing down pulmonary fibrosis. in laboratory settings, imatinib is being used as an experimental agent to suppress platelet-derived growth factor (pdgf) by inhibiting its receptor (pdgf-rβ). one of its effects is delaying atherosclerosis in mice without or with diabetes.
mouse animal studies have suggested that imatinib and related drugs may be useful in treating smallpox, should an outbreak ever occur.
in vitro studies identified that a modified version of imatinib can bind to gamma-secretase activating protein (GSAP), which selectively increases the production and accumulation of neurotoxic beta-amyloid plaques. this suggests molecules that target at GSAP and are able to cross blood–brain barrier are potential therapeutic agents for treating alzheimer's disease. another study suggests that imatinib may not need to cross the blood–brain barrier to be effective at treating alzheimer's, as the research indicates the production of beta-amyloid may begin in the liver. tests on mice indicate that imatinib is effective at reducing beta-amyloid in the brain. it is not known whether reduction of beta-amyloid is a feasible way of treating alzheimer's, as an anti-beta-amyloid vaccine has been shown to clear the brain of plaques without having any effect on alzheimer symptoms.
A formulation of imatinib with a cyclodextrin (captisol) as a carrier to overcome the blood–brain barrier is also currently considered as an experimental drug for lowering and reversing opioid tolerance. imatinib has shown reversal of tolerance in rats. imatinib is an experimental drug in the treatment of desmoid tumor or aggressive fibromatosis.
Систематическое (IUPAC) Имя:
4-[(4-methylpiperazin-1-ил)метил]-n-(4-метил-3-{[4-(пиридин-3-ил)pyrimidin-2-ил]амино}фенил)benzamide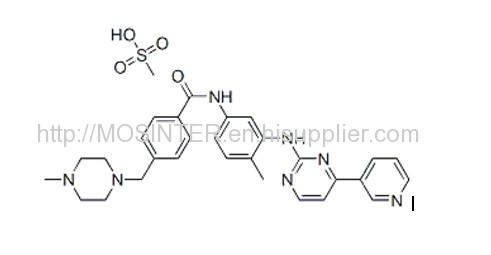 категория: Противоопухолевые препараты api
Связанные категории: подгонянный фармацевтический апи другого фармацевтического апи ветеринария апи диагностические средства апи витамин препарат апи